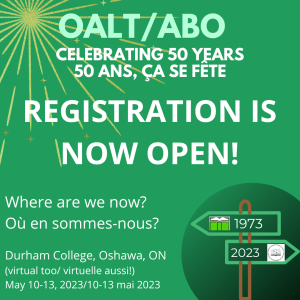 Good afternoon,
Please find below a few conference related updates:
Conference Accommodations
Are you planning to stay at the Durham College Residence during the conference? The deadline to guarantee our group rate ends on Friday April 28th.
Direct Link: 2023 OALT/ABO Conference – Promo Code – Direct Booking Link
Conference Registration
If you are attending in person, registration will close on Thursday May 4th.
If you are attending virtually only, registration will close on Monday May 8th.
Access to the Registration Form can be found here: https://oaltabo.on.ca/product/50th-conference-registration/
You can also consult our program available at the following link: https://oaltabo.on.ca/conference/2023-conference-program/
50th Anniversary Polos
To celebrate the 50th Anniversary of the Association, we will have OALT/ABO embroidered Polo shirts available for purchase
The order form for the OALT/ABO 50th Anniversary Polos is now available on our website: https://oaltabo.on.ca/product/50th-anniversary-polos/
In order to ensure that we receive our order by the conference, please submit your orders via our website by Thursday April 27th (tomorrow) evening by 9 PM ET.
If there is additional interest after this date, we can place an additional order; however, the price may increase slightly due to quantity.
Annual General Meeting
The 50th Annual General Meeting of the Ontario Association of Library Technicians/Association des bibliotechniciens de l'Ontario will be held on Saturday, May 13, 2023 at 12:15pm in person and remotely via Zoom.
Members in good standing, who are unable to attend the meeting in person may by means of proxy appoint a proxyholder, or one or more alternative proxyholders, who need not be members, as the member's nominee to attend and act at the meeting in the manner, to the extent and with the authority conferred by the proxy. A member wishing to appoint by proxy, a proxyholder(s) is required to complete the following form, signing and dating it, and giving it to the proxyholder to return to the Chair of the Annual General Meeting, the President of the Association, prior to the call for order on Saturday May 13, 2023.
Proxy forms must be sent via email before Saturday, May 13, 2023 to info@oaltabo.on.ca
Further information and documentation will be sent out when available, as well as being posted to our website at: https://oaltabo.on.ca/conference/annual-general-meetings-minutes/.
If you have any questions, please do not hesitate to contact the Board of Directors via email at info@oaltabo.on.ca or president@oaltabo.on.ca.
Thank you,
Vincent Elit
President, Board of Directors | Président, Conseil d'administration
Ontario Association of Library Technicians/Association des bibliotechniciens de l'Ontario
president@oaltabo.on.ca | https://oaltabo.on.ca/